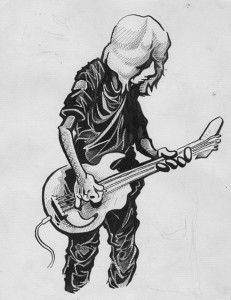 Midway through their set at last summer's Celebrate Brooklyn show, Wilco frontman Jeff Tweedy commented to the crowd that we smelled like bacon. I laughed, thinking he was referring to security, typical of the Celebrate Brooklyn festival. But his follow-up comment about the wafting smell revealed that he literally meant bacon: the smell of which enveloped the park, being emitted from the concession stands on either side of the stage.
A ticket to the show cost $45. The Bowery Presents security guards searched my bag and patted my pockets. Walking past many groups of security and police officers and onto the grounds itself, we were greeted by the many concessions for French fries, burgers, beers, sodas, snacks, etc. Advertisements for Google Plus and Vitamin Water.
The food line itself was wonderfully efficient. How the young people taking orders, making orders and handing out orders were able to keep that massive line moving and serviced seemed more work than organizing the whole show could have been. I wondered what hungry percentage of the show's proceeds they would be making.
The band played, and the crowd talked. And talked and talked and talked. Few people seemed interested in actually listening to the music. A constant stream of new food and beverage purchases held aloft passed through every chorus or so.  Because nothing says rock and roll like French fries and expensive beer and talking while the band plays at a corporate event that you got searched just to get into.
Each distraction, whether it's a burger or a phone or a conversation, distracts not only the one eating or talking but those around the eater or talker. Your distraction distracts us all. When you are distracted from the thing we are all here to partake in, it removes your commitment to and love for the thing. And we need yours, the thing needs yours. Don't let it be taken away, from you or us.
Part of the corporate revolution has been to convince us that we should not care about where our money goes to, or where our products come from. Don't worry about what slave made your shoes, just concern yourself with their look and price and what this will communicate about you. Don't worry about the wait-staff and kitchen that makes and serves your food, just worry that the restaurant has a 'cool vibe' or is 'cute' and the food is delicious and affordable.
Don't worry about what rights-violating searches you have to go through; what advertisements you'll be forced to endure; what incredible profits will be made on concessions – and how all of those profits will be divied up (a lot to the owners, a little to the workers). Just concern yourself with the band you want to go see, and the awesome time you'll have seeing them, and singing along. Maybe they'll do a cover. "Meet the [munch, slurp, munch] new boss [munch munch, swallow] / Same as [burp] the old boss."