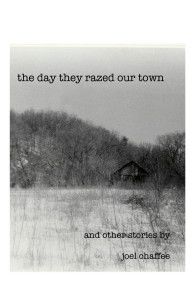 JC's new and first book of
short stories:
The Day They Razed Our Town.
Razed is a collection of miseries histories and comedies –
doggie daycare work,
gentrification,
Chelsea Manning,
Christmas,
first loves and last,
MOVE,
dental health,
New York,
Grandma,
watching your alma mater wrecking balled.
Stories included:
The Day They Razed Our Town
Smiling, USA
Ona MOVE
Sophia Sara Bednarczyk
It Was Me
Jesus' Teeth
Taking Short or, I Love You, Chelsea Manning
Bedford & First
Eveline
City Property
Mr. Drunk Driver
Thwack
Jesus used to watch me.
Handjob at the Beach
Christmas Needs To Come Early This Year
House On Fire